Bo Kluea: Off the beaten track to visit our sponsored children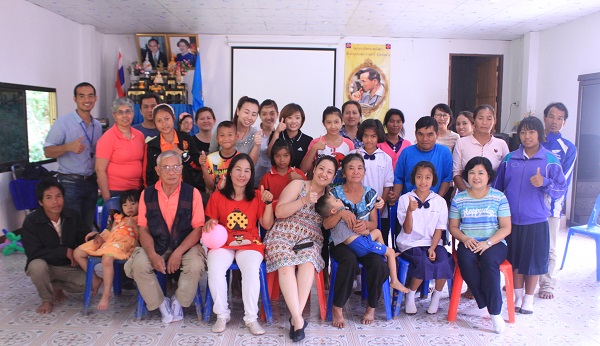 I always look forward to World Vision's  Child Sponsor Trips as this means that I would get to meet my sponsored child and his/her family. This is the fifth time I have been on a child sponsors trip and each time I never fail to marvel at how much my small contribution benefits the community and my sponsored child.
Each visit is special and unique and I have the privilege of experiencing a different culture, food, beautiful scenery, and most of all, access to parts of the country where a regular tourist would never get to go. I love that I am travelling "off the beaten track" and yet enjoying a safe and comfortable experience thanks to the fantastic, caring World Vision teams in each ADP (Area Development Programme).
I first met some of the other child sponsors at the pre-trip briefing. After that we communicated through WhatsApp on ideas for gifts and activities for the school children we were going to visit as well as for our sponsored children.
We were welcomed at Nan airport by Bo Kluea ADP staff, Ms Yajai whose competence and patience made our trip so smooth. We also had the company of YiPing, whose excellent English and mischievous sense of humour made our trip so much more enjoyable. We piled into two comfortable vans for the 2-hour journey to Bo Kluea Fah Sai resort, our home away from home for the next 5 days. On route, we stopped at Big C, a huge department store, to purchase additional gifts for our sponsored children that were too bulky to buy from Singapore such as blankets and school bags.

My room at Bo Kluea Fah Sai was clean and spacious, with an ensuite bathroom. At Fah Sai resort, we were fed a sumptuous Thai breakfast each morning before setting off on our visits to schools and villages. The best part was having our breakfast on the verandah, enjoying the view of the hills enveloped in a mysterious mist.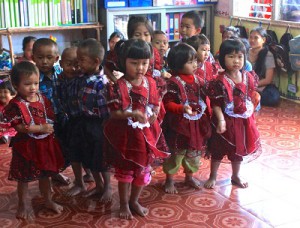 Our days were packed with activities. On Day 2, after meeting the wonderfully warm and capable staff at the ADP, we headed off to Ban Nong Nan Child Care Development Centre (CCDC) where 17 undernourished and previously undernourished children aged 2 to 5 years old were enrolled. They gave a delightful song and dance performance. Their caregivers, mainly grandmothers, accompanied these children. For many in the CCDC, the breakfast and lunch provided were probably their only meals of the day. What was remarkable was that for under SGD6,000, all the children plus their caregivers could be fed for a year!
We helped cooked the lunch and enjoyed a tasty, nutritious meal with the children, caregivers and ADP staff in the Centre.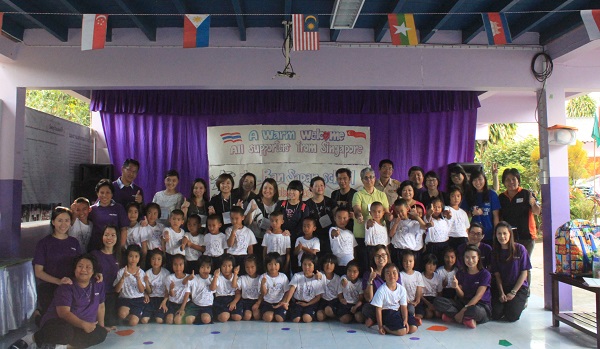 In the afternoon, we visited Ban Sapan School (170 students from kindergarten to grade 6, of whom 149 were registered children with World Vision).We had a really fun game where each tripper was teamed up with a group of 5-6 students and each team had to all stand on increasingly smaller pieces of newspaper. Needless to say, that was quite a challenge, but the creativity and enthusiasm of the students were awesome!
We were also given a tour of the student dormitories, and the vegetable plots and fishponds that the students tended to for their own consumption. The dorms, basic yet clean and tidy, made schooling possible for many of the students as they lived far away and would have had to walk 2-3 hours each way to school daily. We ended the day with a climb up to the lovely Ban Sapan Waterfall, a well-known local tourist site and one that was practically at the schools doorstep.
On Day 3 of our trip, we all packed into a "school bus" for the steep drive up Bo Kluea's hillside to visit Ban Na Pong Village, a Luang hill tribe village.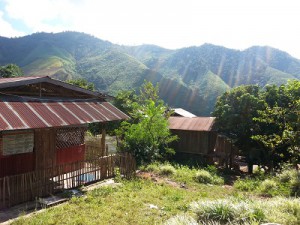 The "school bus" was used to ferry school children walking down from the hills to pick-up points, and was really a lorry, similar to the kind that our hardworking foreign workers back in Singapore, travel in. As the road up was unpaved, we bounced every time we hit a deep rut, fortunately, thanks to skillful driving, we didn't experience too many of those times when we levitated from our seats! The scenery up the hills was lovely and the whole ride was rather exciting and novel for city folks like us.
In Ban Na Pong, some of us took part in vegetable farming. We helped with tilling the predefined rows of earth; planted the seeds; watered the rows and then put on dried hay which is used to protect the seedlings from animals.

Next we moved on to Ban Pha Khap village where we joined a housewife group in preparing a dessert of sticky sweet rice, almost a variant of "pulut hitam" that we wrapped in banana leaves and tied securely with strings. The ladies demonstrated each step and guided us on how to cut the banana leaf and split the stem to use as a string. We then proceeded to the kitchen to see how the ingredients were cooked. After that, we were shown how much of ingredients to go onto the banana leaf and the method of wrapping and tying it up. These were then steamed.
We then headed off to visit the activities at the demonstration centre for the learning of integrated agriculture. The highlight of this visit was tasting different kinds of tea produced locally and munching on snacks like banana chips that the centre packaged. These products were sold to retailers to generate income for the province. Rather than buying from retailers, many of us bought the tea and snacks at its source.
Then we returned to Ban Pha Khap village to enjoy the fruits of our labour – delicious steamed sticky rice! We finished the day with a visit to the famous Bo Kluea salt wells, which have been in operation for hundreds of years, and are still processed the same way today. Some of us bought small packets of this salt as souvenirs.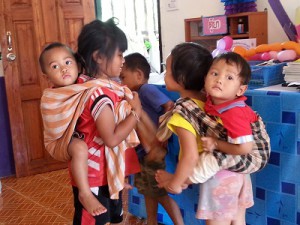 Day 4 brought us to Baan Nam War village (40 households) where we visited a pre-school for 16 children two years and older but in fact, the pre-school had to take a few under 2 years old. I was taken aback to see two young children, no more than 5, carry their toddler siblings on their back using a sarong sling carrier. They were hardly bigger than their siblings themselves. Not only that, these remarkable children, when offered their lunch, fed their siblings first! It was truly humbling to see.
We ended our day with a visit to the Health Promotion department of the hospital at Bo Kluea Neu sub-district where we learned how big the health challenges were in eliminating worms and diseases caused by contaminated drinking water as well as diet; and a visit to Baan Sawa school where World Vision's interventions in the school through water filtration machines, lunch programmed, dormitories, school supplies, and the promotion of livelihood skills made the future of these students just a bit brighter.
The highlight of our trip was meeting our sponsored child on Day 5. The respective child sponsors presented their sponsored child family with gifts and in exchange, many of us also received a gift from them.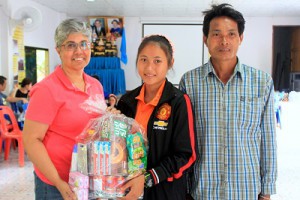 I was able to spend time with Yong, my 14-year-old sponsored child who was accompanied by her father. I started sponsoring Yong two years ago and was glad that I could visit her and see where she lives. I took lots of photographs; shared a meal with Yong and her father, and did some origami with the rest of the children. It was sad for both of us to say our goodbyes when it was time for Yong to return to home before going to school.
I enjoyed the company of my fellow travelers as we shared the same concern for our sponsored children and their communities i.e., adequate food, good health and education. We were fortunate too to have the company of Eva and Rachel from World Vision Singapore whose care, hard work and competence we really appreciated. During our dinner, we recounted our day and the highlights of our experiences, mostly involving the interaction with the children we met at the child care centres, school and those we met when we did home visits.
We were all impressed with the effort of all the schools we visited, on how dedicated they were to teach their school children not only academically but life skills as well. What touched me was how respectful and well-mannered the children were towards everyone and how the older children cared for the younger ones.
I left Bo Kluea with a heavy heart but also with the knowledge that the Bo Kluea ADP is in good hands of Khun Mung and his team who has shown their love of service and care for these communities. 
Written By:
Karen Forbes and Gaik Eng Trippers to Bo Kluea ADP, 20