ACS International Beats Hunger Together
Hunger is one of the most severe global issues — but  if the right actions are taken, it can actually be solved.
This was one of the main reasons why a group of student leaders, the Ambassadors of Anglo-Chinese School (International) Singapore, decided to collaborate with World Vision for our annual charity project.
Our campaign was called 'ACS International Beats Hunger Together' and it aimed to help vulnerable children in Tien Lu, Vietnam.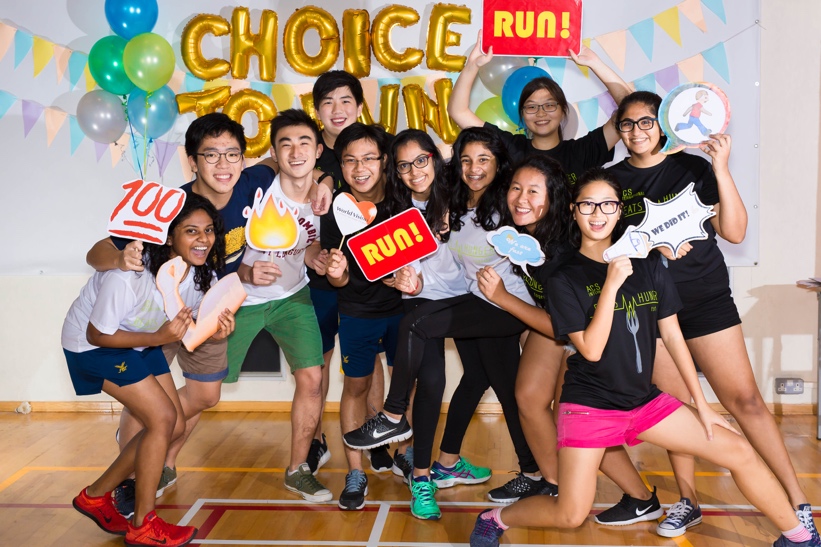 Students participating in a running event, which was part of the ACS International Beats Hunger Together campaign.
At the beginning of the year, the Ambassadors started selling food and drink, as well as stationery at the canteen to raise funds. Although we managed to raise a significant amount of money,  I personally felt that more awareness could be raised about the purpose of our fundraising efforts.
When we organised ABCDEFGH, also known as the "Anything But Casual Dress Day Eradicating Famine and Global Hunger", however, more people became aware of our cause.
We made a presentation during a school assembly and explained the cause to the whole school. On 13th May 2016, students came to school with unique costumes, and many of them donated more than $2, because they wanted to help the Tien Lu children.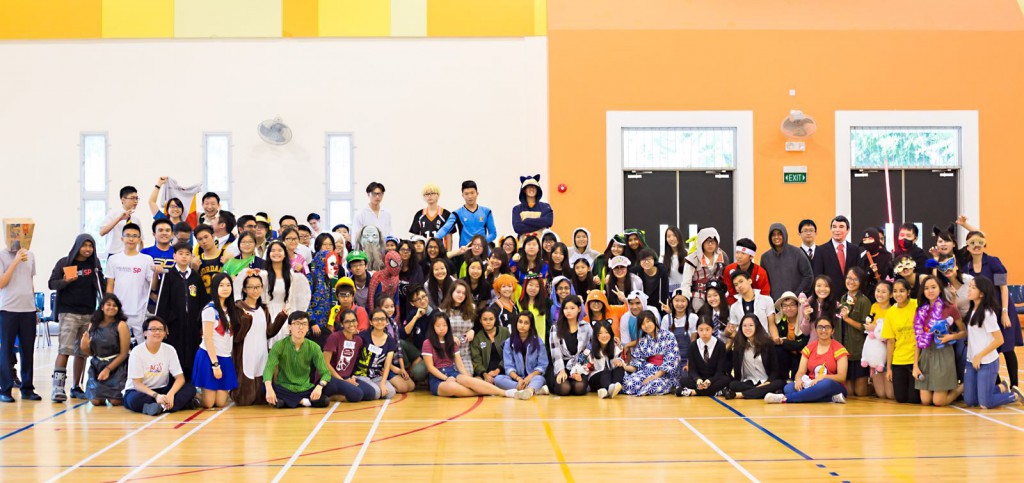 ACS International students participating in 'ABCDEFGH', dressed in unique costumes.
Next, the Ambassadors painted a "Wall of Donation" (WOD), and invited students and teachers to write messages to children in Tien Lu, as well as sign off their names in addition to donating $5.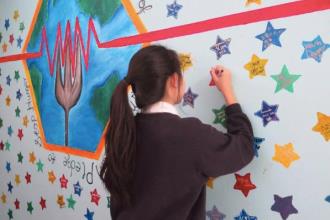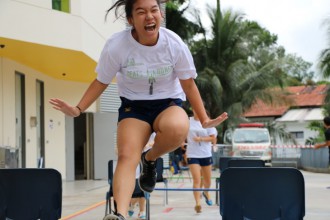 The globe in the middle of the WOD suggested that we are all united as one world and should help one another. The red line that passes through the wall represented a heartbeat, which is the message from the WOD team that a little donation can give children in Tien Lu a lifeline. Over a period of five months from April to September, many came forward to support our cause.
The last but largest and most successful event of the entire campaign was Choice to Run (CTR). This was a charity race around the whole school, from the sports field to old block, where different kinds of obstacles were set up for the runners.
One lap was about 800 metres long. About three weeks before the run, we asked each of the participants to obtain at least one sponsor to support them in the run. These sponsors would have to pledge a certain amount of money for each lap that the person they sponsored ran.
The Ambassadors EXCO spent months preparing for CTR, designing T-shirts, ordering food, setting up the obstacles and more. On the actual day of 23rd July 2016, with more than a hundred students and teachers participating, and more than five hundred sponsors, we managed to raise over $12,000.
In total, the ABCDEFGH campaign, which spanned nine months, was able to raise an incredible $19,196.55, and in the process, allowed the staff and students of ACS International to learn a lot. I personally recognised that there are many things that I take for granted.
It is true that many of us living in Singapore are much more privileged than the children in Tien Lu, Vietnam. Oftentimes during meals, I see young people ordering more food than they can eat, resulting in great wastage. Admittedly, I too, have done the same. After learning more about famine, a serious global issue, I have come to realise just how privileged we are to have food to eat on a daily basis. I realised that I should try to keep my own food wastage to a minimum because the food I waste can be considered a luxury to those in hunger.
In today's world, the famine issue is so great, but ironically, many people still do not know about this. I would like to continue spreading the message and sincerely hope that one day, hunger can indeed be solved.
Written By:
Yang Xiyan, Treasurer, 6th Board of Ambassadors