Cebu is the largest province in terms of population at 4.6 million, with Mandaue City being identified as the most densely populated urbanised city outside the National Capital Region1. About 36% of the total population of Mandaue City (364,116) is below 18 years old, and the poverty incidence in the city is 2  meaning 15 out of 100 families have income below the amount needed to buy basic food and non-food items. 
The area has been identified as one of the major areas in the country with the most number of informal settlers, where urban poor children and their families can be found living in shanties in slum areas along canals, dump sites, or even cemeteries.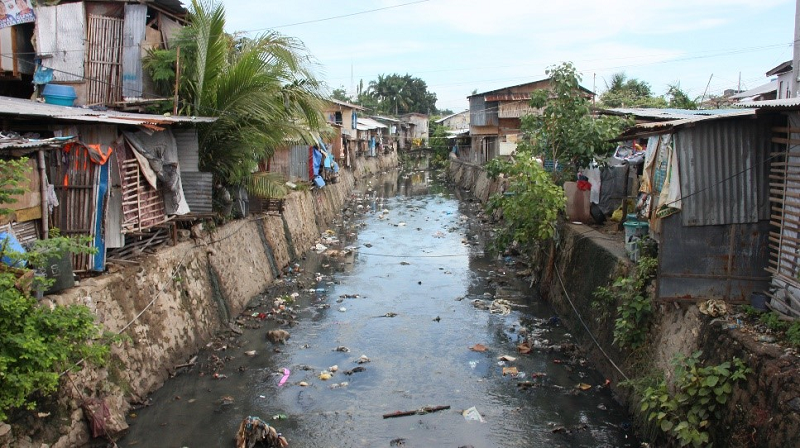 Mantuyong barangay: Families living along the canal which is also a dumping ground for trash; sometimes during heavy rain the houses flood and are filled with garbage.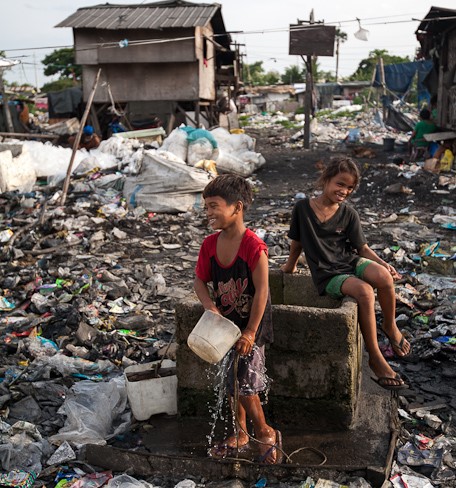 Umapad barangay: Children living in a dumpsite. (Photo credit: Jacob Maentaz)
Key Challenges:
Public health issues – HIV & AIDS, Tuberculosis, diarrhea (#1 cause of child morbidity), dengue, hepatitis
Child malnutrition – common among pre-school population; chronic/severe malnutrition can lead to lifelong damages to physical and cognitive development
Out-of-school children & youths – 1 in 10 children/youth is not in school across the country; Central Visayas Region (where Mandaue City is located) ranked 4th highest in the country
Child protection issues – child labour, online sexual exploitation, child violence
World Vision aims to:
Improve the health and nutrition of at-risk/ malnourished children (age 0 - 5) – Urban Nutrition Hub programme (feeding, regular weighing, and monitoring), provide vitamins, educate parents on child nutrition, etc.
Improve functional literacy of children (age 6 - 14) – set up community mobile library, conduct mentored literacy building sessions, train teachers, etc.
Enable out-of-school youths (age 15 - 30) to be skilled for formal employment – support technical-vocational education and training, job matching, etc. 
Protect children and youths – support child rights education, positive discipline, strengthen community-based child protection services, provide counseling and aftercare for the abused/exploited, etc.
Empower families – urban gardening, financial literacy and savings training, linkage to government agencies for income generation activities, etc.
Project duration: 4 years (June 2023 – September 2027)
Target number of beneficiaries:
Direct: 4,350 people, including 2,900 children
Indirect: 26,521 people, including 23,741 children
To support our Children in the Cities project in Cebu, click here. 
---
Impacted Lives
Urban poor families find a way to curb malnutrition amid pandemic. 
Families in an urban community in Cebu, Philippines are now prepared to combat the impact of the COVID19 pandemic on their health and nutrition after they are trained by World Vision about health practices and nutritious meal feeding.
While the COVID-19 virus continues its rampage across the globe, hunger and malnutrition are becoming silent killers. In the Philippines, it was reported in 2020 that 16.7% of all Filipinos are experiencing hunger. 
Shirley, a young mother from Mandaue City, was worried about her 1-year-old child Zia when she was considered underweight by their local health officer. She only weighed 7 kilos – 2 kilos short of the average weight for the female child – during her check-up last December 2020. The mother shared that their family's daily food intake was lessened when her father who is their breadwinner lost his painting work during the start of the community quarantine.
Zia was not suffering alone from weight loss as many children in her urban poor village were experiencing the same plight.
"We are seeing more and more children who are underweight or rapidly losing weight simply because their parents have lost their jobs and can no longer afford to put healthy food on the table," says Clareneth San Valentin, World Vision Philippines' Health and Nutrition Manager. "This puts children's immediate health in danger, while we also see the potential impact of chronic malnutrition such as stunted, physical growth and delayed cognitive development."
Fortunately, things were looking up in Shirley's community. Zia and the many underweight children in Mandaue were invited to join World Vision's nutrition programme named, Urban Nutrition Hub (UNH).
UNH is a 12-session feeding programme that provides undernourished children with sustained nutritional feeding for them to recover from their nutrition deficiency. During the sessions, World Vision also invites nutrition experts to teach the parents about cooking tips to prepare a healthy meal using accessible ingredients.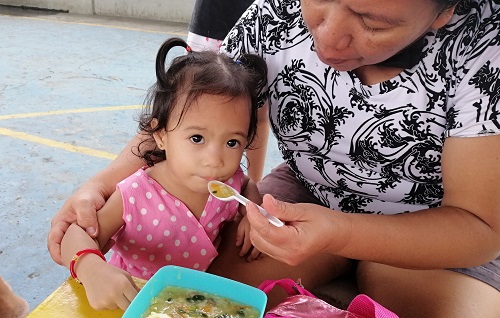 Aside from the feeding programme, the participants also receive gardening tools and vegetable seeds to start up their backyard gardens to sustain their nutritious feeding at home. They initially received 25 kg of rice for participating in the first phase of the project and will receive the same after the completion of each phase up to four phases.
Junita, a 43-year-old mother, shares the importance of feeding activities during the time of the pandemic. "Two of my children are enrolled in this nutrition programme and I can really see the changes after attending many sessions. They already gained weight and their appetite has improved. At home, they're no longer picky with vegetables," says the mother.
To support our Children in the Cities project in Cebu, click here. 
---
12015 Census of Population (POPCEN 2015)
2Philippine Statistics Authority, 2015