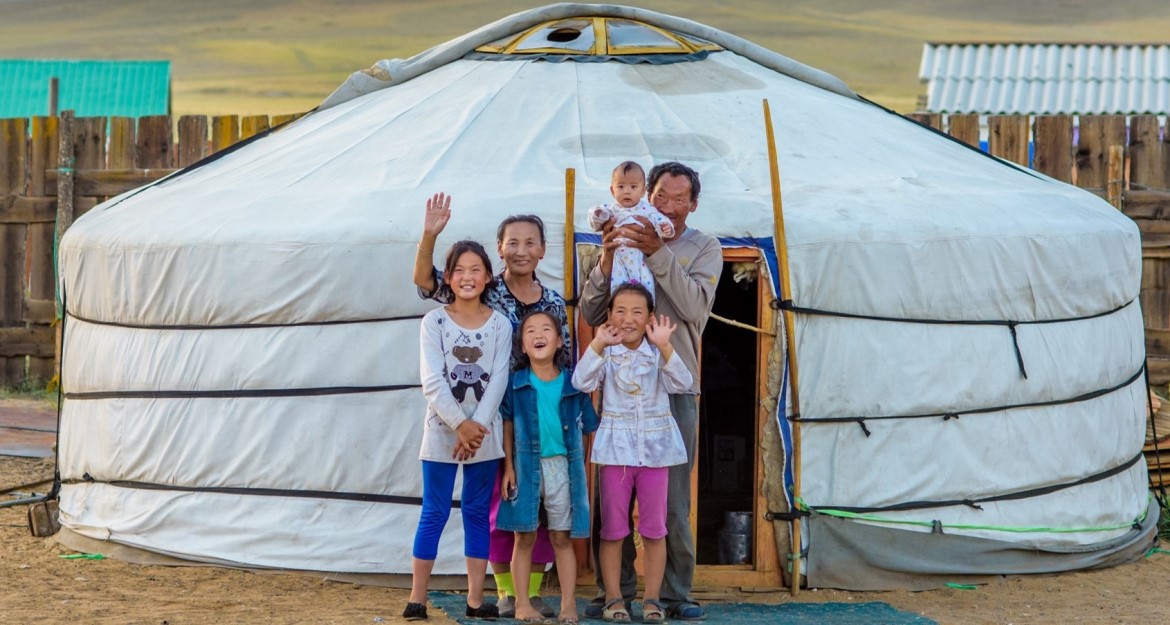 Uvurkhangai, Mongolia
Lives Changed, Communities Transformed
Goodbye Uvurkhangai! Through your help, World Vision will be leaving Uvurkhangai stronger.
Your sponsorship in Mongolia has enabled the children and families with better food security, healthcare, water and sanitation facilities, economic resilience and education.
The Power of Your Help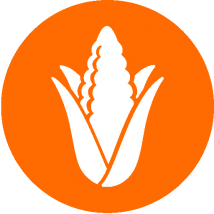 Stunting in children decreased from 24.6% (in 1999) to 9.0% (in 2018)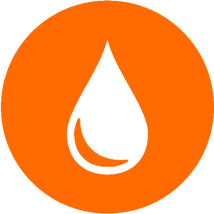 96.5% of children now have access to improved sanitation facilities (previously 19.7%)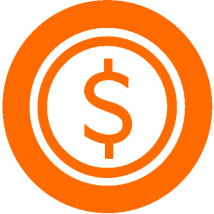 Poverty rate has dropped significantly from 80% (in 2013) to 37% (in 2019)
 
Uvurkhangai back then…
When work in Uvurkhangai started in 2002, poverty was rife. 8 out of 10 people were living under the poverty line exacerbated by an unemployment rate of 67%. The herders that constitute about 70% of the Uvurkhangai community often face harsh winters that destroy their herds with temperatures as low as –50°C. With their only means of survival decimated, 80% of the community struggled to provide for their children on under S$20 a month.
Due to food insecurity, children in Uvurkhangai suffered a chronic lack of food and essential nutrients in their diet, resulting in anaemia which was responsible for 4% of infant deaths in 2001.
With poor education infrastructure available, 85% of children did not attend pre-school and it was common to drop out of high school.
Uvurkhangai today…
The living conditions of the children and families in Uvurkhangai have improved significantly in 17 years.
In these 17 years, World Vision had implemented a nutrition programme to over 4,500 malnourished children under five, eight hospitals were renovated and better resourced, 96.5% of children now have access to improved sanitation facilities in school, 550 homeless families were provided with housing and school enrolment has increased from 20.7% to 98.7%.
Now, the families are better equipped in their journey towards achieving self-sustainability. All of this would not have been possible without the support from sponsors like you!
Click below for the full report.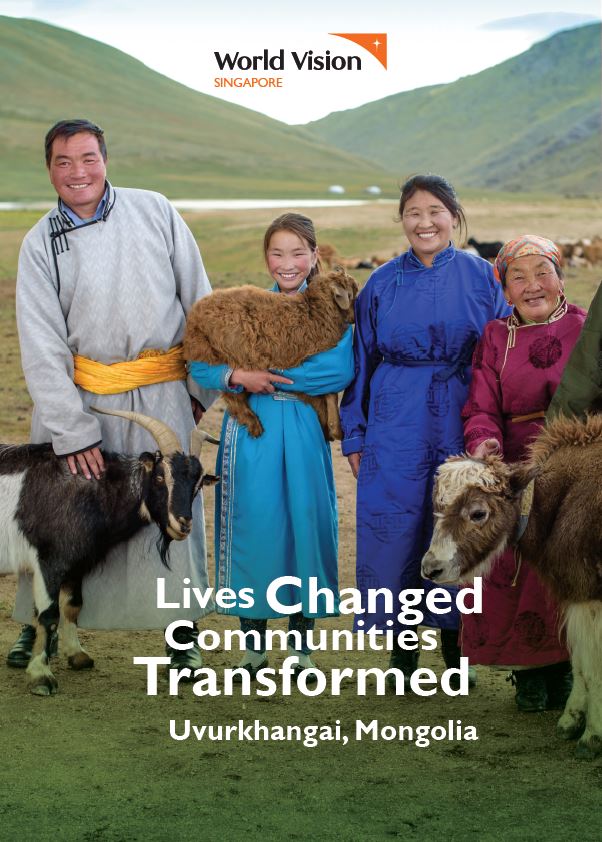 Standing Stronger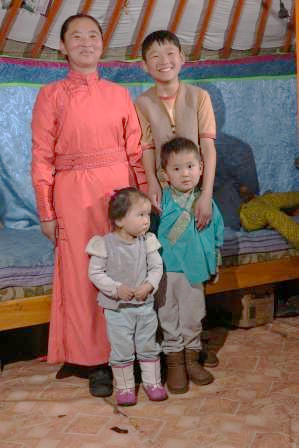 "I want to thank World Vision for supporting me. Above all, you believed in me. I will continue to do my work and expand my business. Because of you I can take care of my family," says a happy Enkhjargal, mother of Gungaabaatar (top right)
The first time seven-year-old Gungaabaatar ever owned pencils was when his sponsor sent a parcel over to him from Singapore. "I felt happy. I received letters, a bag and school stationery from my sponsor," says Gungaabaatar, beaming. Before this, Gungaabaatar did not have his own stationery and was also hungry most of the day. The sub-zero temperatures in winter were almost unbearable for his frail body as his family was too poor to afford any coal or firewood. Gungaabaatar was one of four children of Enkhjargal, a single mother who struggled to raise her family on a monthly government allowance of S$11 per child for ultra-poor families.
But ever since Gungaabaatar got sponsored, his mother was empowered to better care for her family. She attended various trainings that covered topics on how to run a business, financial literacy, health and sanitation and child development. Most significantly, she received vocational training in sewing where she learnt to make traditional Mongolian clothes, as well as western-styled clothes. In addition, she received an electric sewing machine from World Vision that transformed her business and also part of the World Vision savings group where she and other members work to save money together and also help introduce customers for their microbusinesses.
Besides the change in his family situation, Gungaabaatar also attended World Vision training programmes that focused on topics like character building and financial management. Through the programme, he transformed from being shy and quiet to being a confident, open and expressive boy. He also learnt about income and expenses and to use his allowance wisely.
Now, Gungaabaatar is unafraid to dream big dreams for his future.
"When I grow up I want to be an Information Technology Specialist," says Gungaabaatar confidently.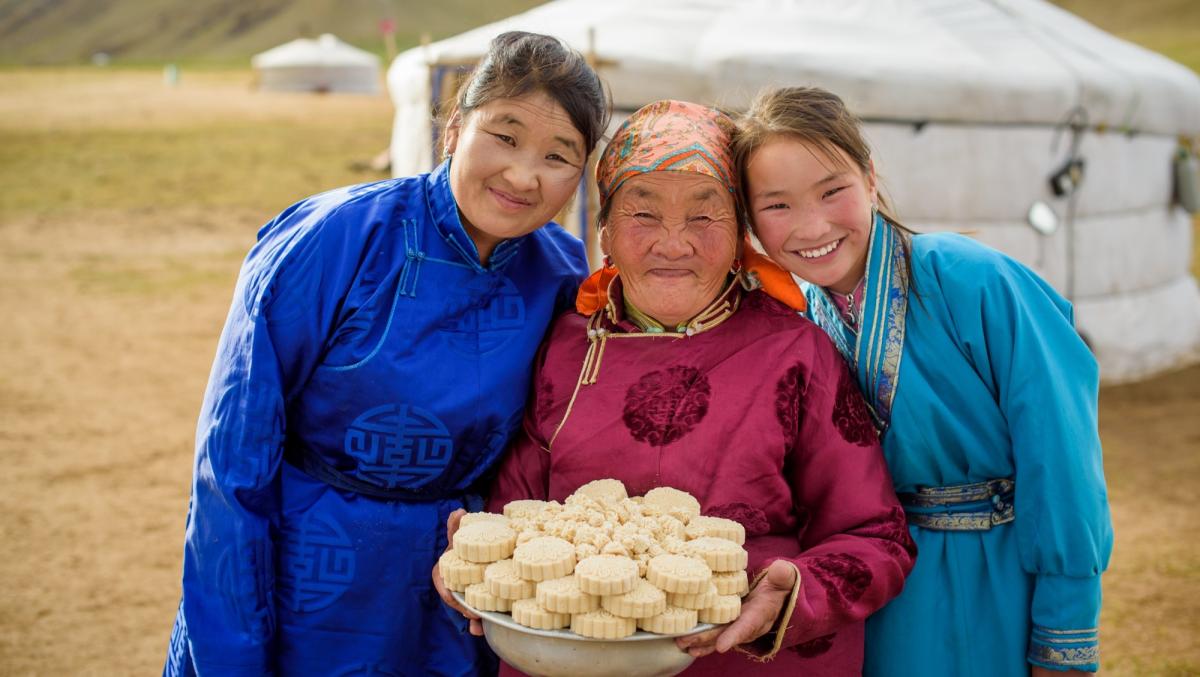 We could not have done this without you!
Be inspired by Haishu's child sponsorship journey with a child from Uvurkhangai

On 1st June 2019, World Vision held a Phase Out Party for Uvurkhangai, Mongolia!
A total of 160 attendees celebrated with us, and 16 children were sponsored through the event!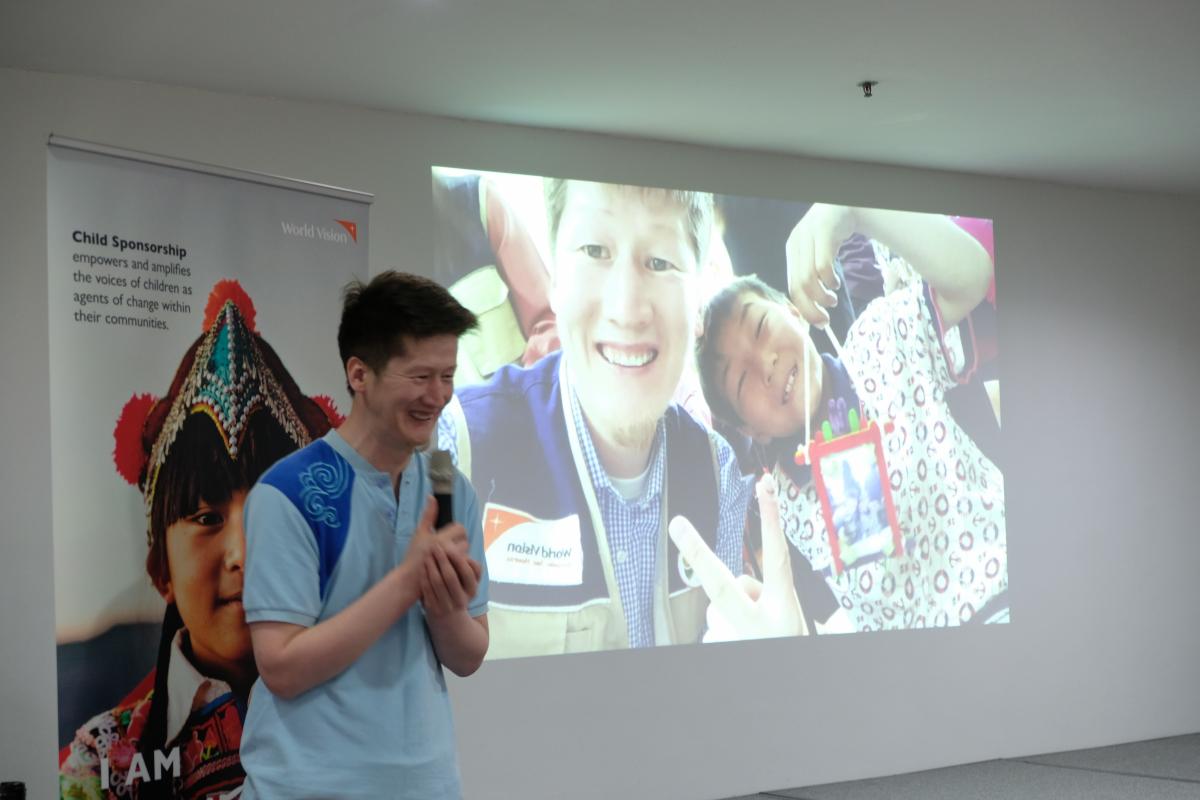 Former sponsored child, Bombi, was invited from Mongolia to share his experiences as a sponsored child. Now, he is continuing his journey to help other children as a World Vision Mongolia staff!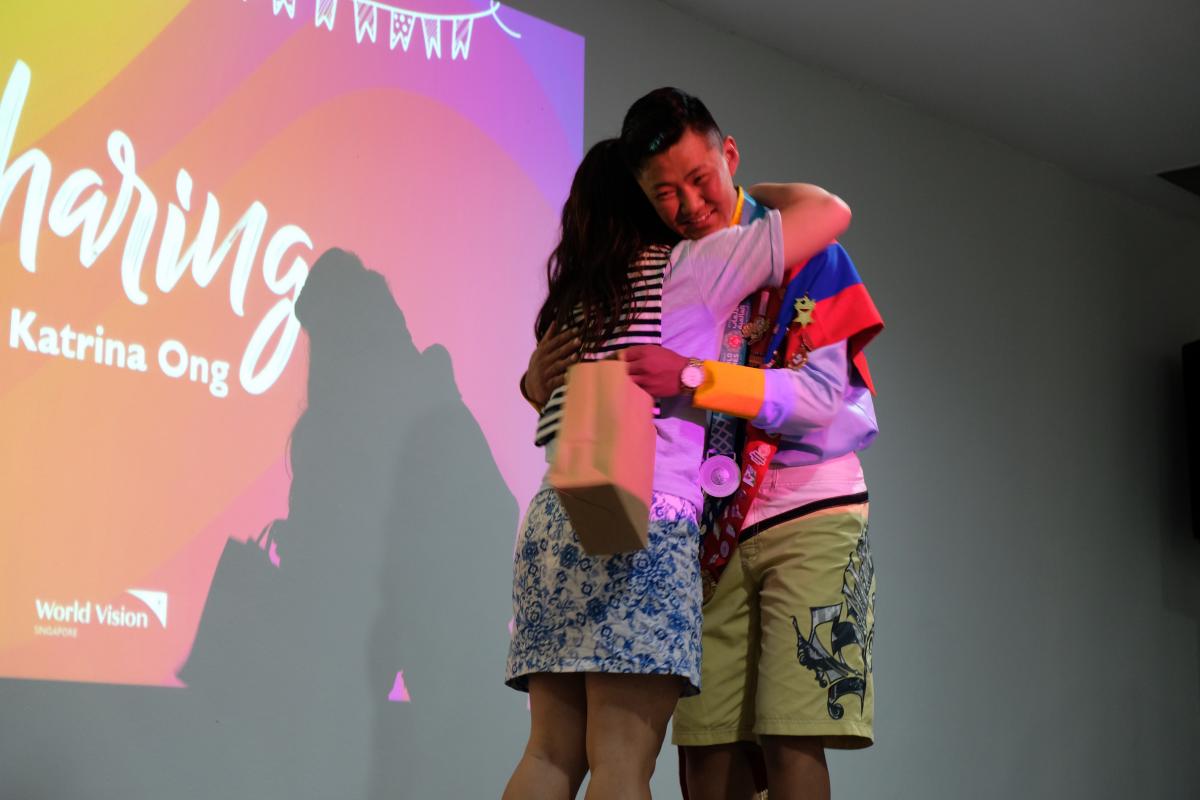 A special surprise! A touching reunion occured during the event as Baldaa, an Uvurkhangai sponsored child, met his sponsor, Katrina for the very first time.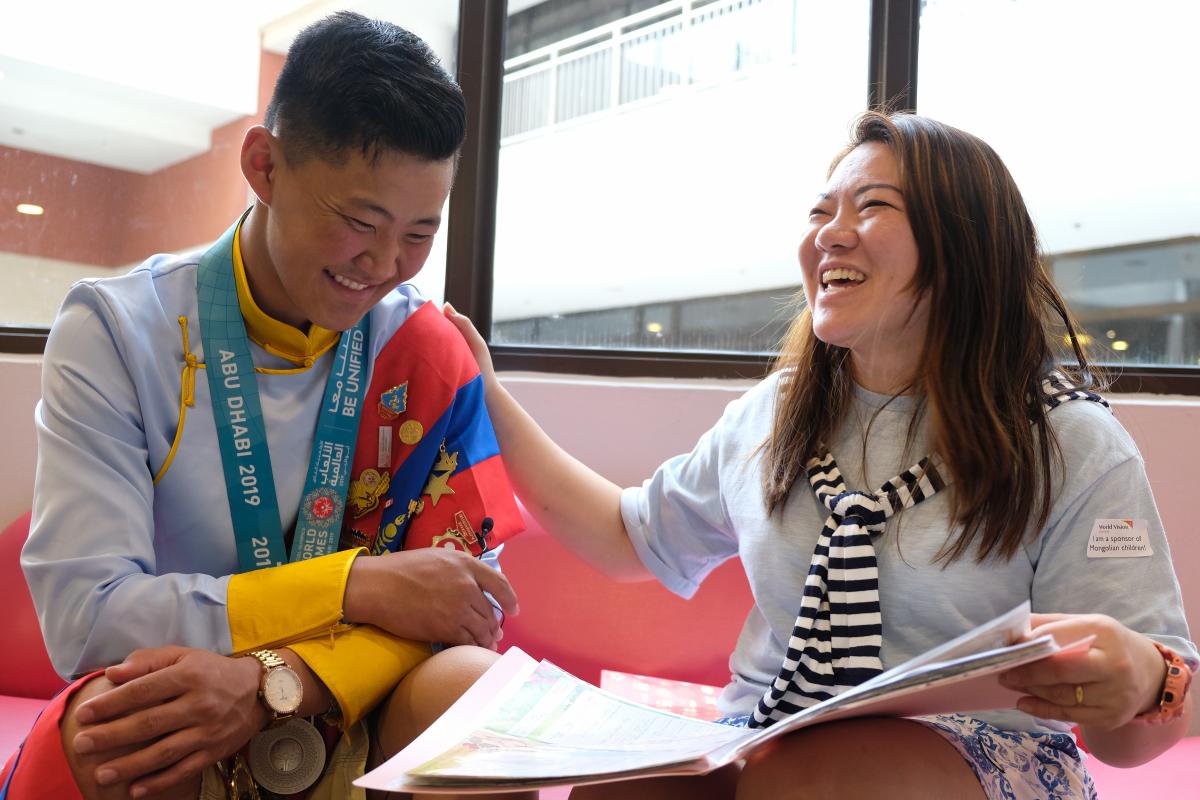 Baldaa shared his appreciation to his sponsor Katrina. Because of her sponsorship, Baldaa felt supported and loved, and worked hard to achieve his dream. Eventually, he won a silver medal in the Special Olympics World Games in Abu Dhabi in 2019.
Hear how Baldaa's life was transformed because of Katrina's sponsorship
Finally, Uvurkhangai says Thank You, and Goodbye!
Stand a chance to win a trip to Selenge, Mongolia by sharing your sponsorship journey!
Frequently Asked Questions
Q: Why can't I continue sponsoring my child?
A: Families need and deserve the dignity of seeing themselves as self-reliant - not depending forever on charity. Only then can they experience the sense of dignity to which they're entitled.
Q: Why can't I keep writing to my sponsored child?
A: Your sponsored child needs to know that his or her own family and community are now empowered to help themselves. Once the community is self-sufficient, World Vision staff will not be available to deliver letters. Furthermore, most families in Uvurkhangai are herders and they move from place to place without a fixed mailing address.
Q: How do I know if my sponsored child will be okay?
A: Through sponsorship, you've helped prepare your sponsored child's community to ensure that their children are cared for. You've helped build strong networks of parents, teachers and community health workers. They have clearly demonstrated a readiness to meet children's needs without our assistance.
Q: How does World Vision decide it's time to end the partnership?
A: We look for evidence the people are significantly stronger than when we began - not just as individuals, but as groups, associations and networks. We must be confident that the community can sustain and also improve on what we've built together.
Q: You've found a new child for me to sponsor. How did you choose?
A: This new child's community is earlier on in their partnership with us - they still have many needs. We tried to select a child based on preference you may have had, or with similar qualities as your previous child.
Q: What if I prefer a different child?
A: We're happy to explore different sponsorship options with you! There are so many children are in need. You can request for us to send you a few more child profiles via http://www.worldvision.org.sg/mog2019. If we don't hear from you, don't worry! We'll continue your sponsorship with the original child presented to you so there's no interruption.
Q: What will happen next?
A: In October, you will receive an e-mail confirming the transition is complete, along with more information about your sponsored child and the community.
Q: What should I do if I do not want to continue the sponsorship journey?
A: If you choose not to continue with child sponsorship, please write to us at enquiries@worldvision.org.sg