Almost 24.3 percent of the population in Bangladesh still lives in poverty, and 12.9 percent1 of the population live in extreme poverty.
About 1.2 million children2 in Bangladesh engage in the worst forms of child labor. This includes forced child labor in the production of dried fish, bricks, garments and leather goods. Children working in informal garment production work as many as 16 hours a day and often carry heavy loads, use hazardous machinery, and handle chemicals without protective equipment. Children employed in tanneries similarly lack protective equipment and experience continuous exposure to heavy metals, formaldehyde, and other hazardous chemicals.
In addition, the labor law does not prohibit children from working in informal economic sectors, and does not specify the activities and number of hours per week of light work that are permitted for children ages 12 and 13. The number of labor inspectors is also insufficient for the size of Bangladesh's workforce, and fines are inadequate to deter child labor law violations.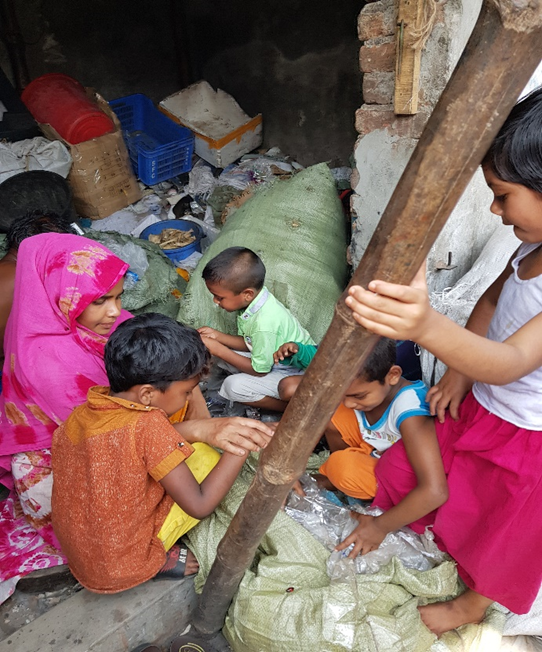 Children scavenging in Dhaka slums
Key challenges:
High school drop-out rates
Lack of relevant skills for an honest living
Mindset of community and parents that perceive education as a burden
Lack of sensitisation and sense of dangers related to hazardous labour
Poverty of parents
World Vision aims to:
Promote skills development and safer work among children engaged in child labour

Provide Technical Vocational Education Training (TVET) among working children aged 15-17 years old, who are school dropouts
Linkage with companies for internships and job placements
Provide annual health check-ups, and conduct primary health care and adolescent reproductive health awareness sessions

Provide children involved/at-risk of child labour with non-formal education and life skills

Provide non-formal education for out-of-school children aged 6-12 years old to facilitate their enrollment into formal education thereafter
Provide life skills-based education and leadership training at child-friendly learning centers
Equip child friendly learning centres with furniture and learning equipment to promote a conducive learning environment

Advocate against hazardous child labour and promote protection of children 

Provide livelihood skill development, income generation support, and savings training for parents/caregivers of working children
Conduct advocacy initiatives against child labour
Project duration: 3 years (Oct 2021 – Sep 2024)
Target number of beneficiaries: 
Direct: 400 child involved/at-risk of child labour, 400 parents/caregivers
Indirect: 3,000 community members in the target wards
To support our Children in the Cities projects, click here. 
---
Impacted Lives
A Family Saved
Johura, 36, lives in a slum in Maniknagar, Bangladesh, with her husband, 8-year-old son, and her in-laws. The family of five live in a congested room made of metal sheets and walls. 
Johura's husband works as a bus helper in Dhaka city. As his monthly income is insufficient to support the family expenditure, Johura started working as a maidservant. However, the additional income was still not enough to cover the family's basic needs and provide educational materials for her son, Ibrahim. 
Eventually, Ibrahim had to stop schooling and help with a side business. Every morning, Johura cooked pulse and potato curry for her son to sell in the slum. He would manage to earn around Tk 100 – Tk 150 (S$1.50 – S$2.30) each day to add to the family's finances.
When World Vision implemented this project, Ibrahim and his family were selected as beneficiaries. He was enrolled in Non-formal education and is currently attending classes regularly. He has been a good student and can now read and write very well.
Johura was also selected for the Income Generation Activities programme. She was provided with 22 sets of clothes (saris) to sell and when she managed to sell them in the community, she was able to purchase 22 more clothes to sell with profit. She started saving Tk 1000 (S$15) monthly and obtained a contract with wholesale sellers for buying clothes and regularly brings clothes from the market to sell.
Now, Johura is able to fully support her family financially and withdraw her son from working. She is able to provide nutritious food for Ibrahim and he continues to study in Non-formal education under the project. She hopes to fulfill her son's dream to enroll back informal school next year.
Other than Johura, 19 other needy parents and caregivers of working children have received IGA support. They are increasing their income by having respective small businesses, such as pulling rickshaws, selling vegetables, clothes, and tailoring. 
"I'm really thankful to World Vision Bangladesh for the initiatives they have taken for me under this project and changed my life," shared Johura. 
*Beneficiary is from a previous similar Against Child Labour project supported from 2019 – 2021.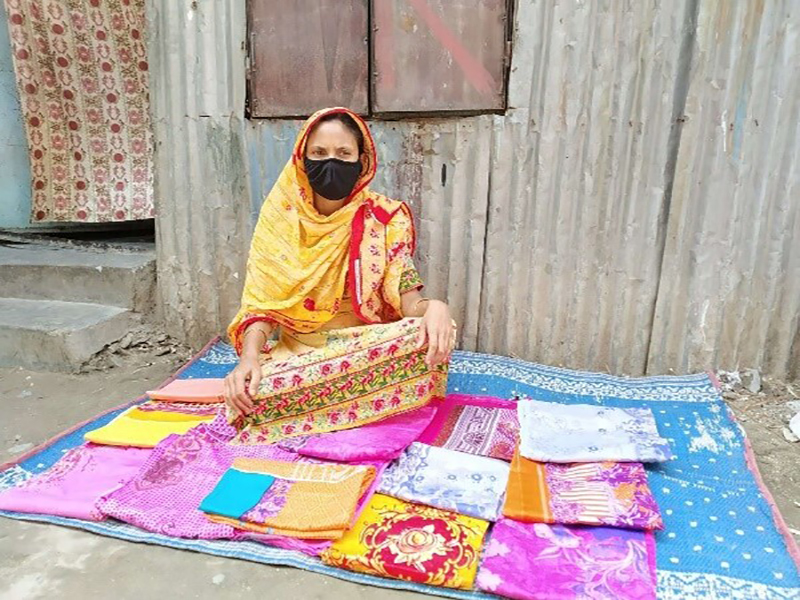 Johura with her business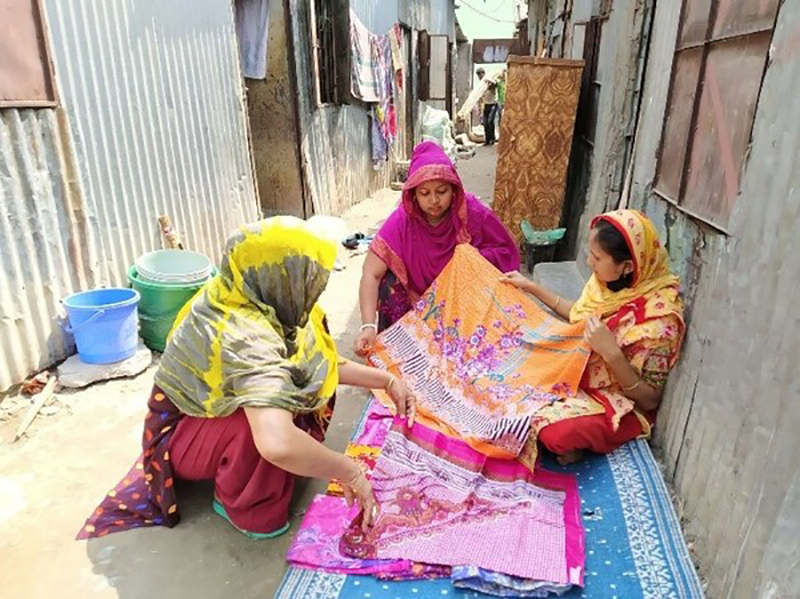 Johura selling cloths
To support our Children in the Cities projects, click here. 
---
1HIES, 2016
2National Child Labour Survey, 2015