Türkiye and Syria Earthquake Emergency Response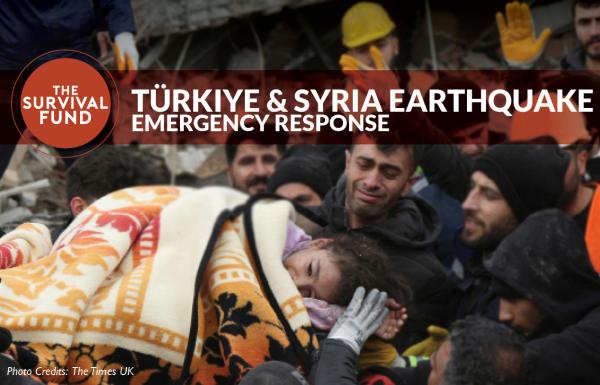 A 7.8 magnitude earthquake hit a wide area in south-eastern Türkiye and Northern Syria in the early hours of Monday (6 February 2023) morning, killing thousands of people and trapping many others.   Aftershocks are being felt with one registering a powerful magnitude of 7.5. Strong aftershocks have also been reported in southern and central Türkiye. 
The number of casualties is rising by the minute, with freezing winter weather adding to the plight of the thousands left injured or homeless and hampering efforts to find survivors.  Several medical facilities have been partially or completely damaged.
"While we were sleeping, the house started shaking; I immediately ran to my children; I did not know which one to carry; I could not reach the door, the distance was very far, and a minute of time was like years of helplessness and fear, and the fear continues with the aftershocks.
Most of the people are on the streets in the snow and rain, with many destroyed buildings, many victims, and many still trapped under the rubble. "
PROVIDE RELIEF
World Vision is on the ground and has begun  distributing fuel and heat to shelters.  Cold and sub-zero temperatures are a real concern. Your donation can help to provide fuel to medical facilities and collective emergency shelters for heating purposes and electricity, food (including ready-to-eat food) and key non-food items (e.g. tents, blankets, mattresses, tarpaulins, and heaters)
$50 can provide medical supplies to enable the treatment of 12 people
$100 can provide 1 person with safe and clean water for 6 months
$250 can provide 4 people with heating during the initial months following the earthquake
$500 can provide 8 people with basic shelter assistance and essential household items during the first weeks after the earthquake
$1000 can provide 8 people with emergency tents
Our immediate areas of response will cover Gaziantep and Sanliurfa in Türkiye, as well as Azaz, Afrin, and Idlib, in Northern Syria. Read more on the latest developments in our emergency response. 
My Giving
My Giving is currently empty