Emergency Supplies for Families Affected by Typhoon Rai, Philippines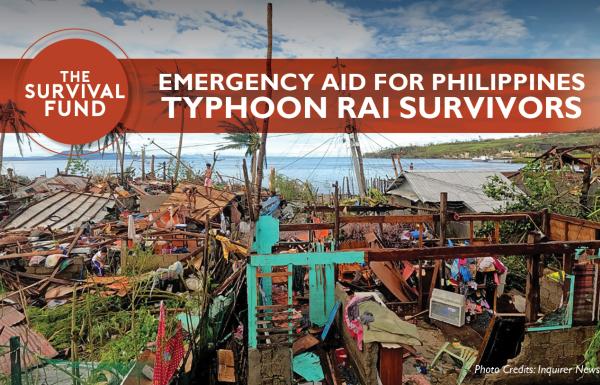 Typhoon Rai (local name Odette) hit the Philippine archipelago on 16 December 2021 at 1:30 pm, causing the death of nearly 389 people and leaving a wake of massive destruction in its path, and reigniting many Filipinos' unforgotten memories of the lethal Typhoon Haiyan in 2013.
This typhoon could not have occurred at the worst time, in the week before Christmas and in the midst of a raging pandemic that brought the poorest in the Philippines to the brink of despair and starvation.
While the full extent of the damages will require more time to be determined, initial ground assessments indicate an urgent need for food, hygiene kits including COVID-19 protection, shelter repairs, and support to livelihoods recovery destroyed by the typhoon, even as many areas remain without electricity and water. More than 571,000 people are now displaced and the death toll is on the rise. 
World Vision is targeting to reach 50,000 people affected by the typhoon, half of whom are children, with the following:
Food and potable water
Hygiene and COVID-19 protection supplies
Emergency shelter (tarps, ropes, solar lamps etc.) and non-food protection items (blankets, mosquito nets, kitchen kits etc.)
Psychosocial first aid, child-friendly spaces and distribution of learning kits or replacement of school supplies
Cash and food voucher assistance
The response will be managed through adaptive management wherein plans and target varies and changes depending on the changes of context, priority needs and available resources.
More than 2000 life-saving relief essentials have been distributed in the province of Cebu and Bohol. The relief items include shelter items, hygiene kits, mosquito nets and blankets, and kitchen items.
For more information about our response, please visit our Disaster Response Page. 
My Giving
My Giving is currently empty