Afghanistan Emergency Response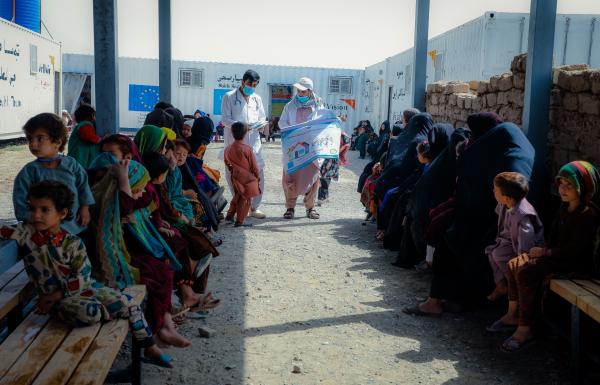 Decades of war, chronic poverty, recurrent natural disasters and the COVID-19 pandemic have left 24.4 million people, nearly half of the Afghan population, in need of humanitarian assistance. 
Since the Taliban seized power in August 15, 2021, over 700,000 people have been displaced, exacerbating the already immense needs of the people and further complicating an extremely challenging operational environment. While all population groups across the country have been affected, women and girls have been disproportionately impacted.
The current situation remains uncertain, and World Vision aims to keep planned interventions scalable and adaptable as the emergency develops so the life-saving needs of the most vulnerable can continue to be addressed. Priority will be given to the disabled, pregnant and lactating mothers, families with children under 5 years of age, as well as children at risk of abuse, violence and exploitation.
Key Challenges:
8.4 million people facing emergency level food insecurity (the last step before famine) – the highest number in the world
More than 1 in 2 children under 5 years old facing malnutrition
Over-burdened health system at brink of collapse
Acute water shortage due to prolonged and frequent drought caused by climate change, leading to 40% of crops being lost
Complex economic crisis – 97% of population expected to fall below the poverty line by mid-2022
World Vision aims to reach 1 million people, half of them children, between April to September 2022, by responding to their acute survival needs and ensuring the protection of vulnerable Afghan children and their families:
Improve food security for vulnerable households 
Reduce acute malnutrition and disease
Increase access of affected households, schools and healthcare facilities to sustainable and safe drinking water, sanitation and hygiene services
Prevent and respond to the immediate protection concerns of conflict-affected girls and boys
Much has been done, but much more remains to be done. Vast resources are needed in Afghanistan to prevent an unprecedented humanitarian catastrophe from happening.  The world cannot forget the people of Afghanistan now.
Stand together with the children of Afghanistan today. Support our life-saving work to help Afghan children to survive, recover and build a future.
To find out more about our work in other dangerous places, click here.
My Giving
My Giving is currently empty