West Bengal, located in the eastern part of India, has more than 30 brothels across the state. In Kolkata alone, there are 12 red-light areas with approximately 20,000 women involved in prostitution. The city includes Sonagachi, considered to be Asia's largest red-light district. 
Majority (82%) of women involved in brothel-based prostitution in Kolkata have children1, and most of them live in the brothels as well. The children are either present in the same room when mothers host clients, or idle out on the streets. Incidents of girls misunderstood to be prostitutes and sexually assaulted by their mother's clients are not uncommon. Coercion to join the business also exists. As many of the mothers are uneducated, children growing up in brothels are mostly first-generation learners and many are not achieving their age-appropriate learning outcomes2. 
Child sex trafficking is also common as West Bengal shares international borders with Nepal and Bangladesh. It is a major source, transit, and destination not only for intra and inter-state trafficking, but also for international. 26% of respondents in Kolkata were trafficked into prostitution when they were minors3.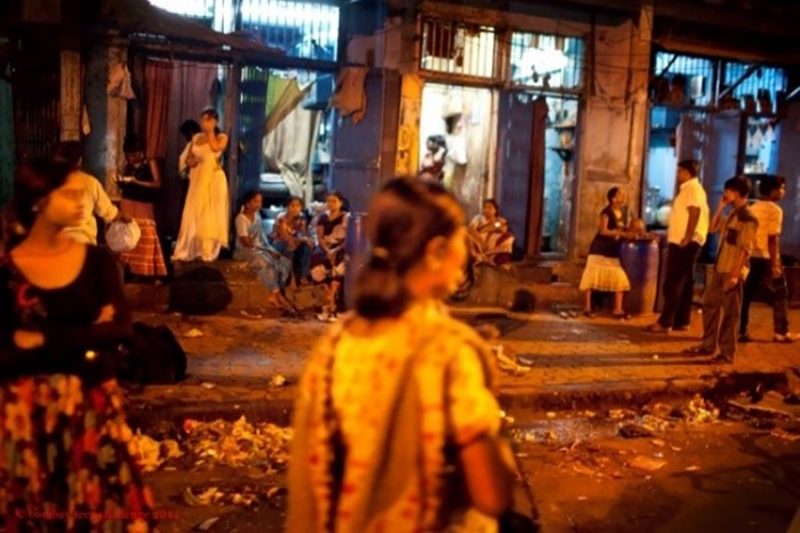 Photo credit: Bombay Teen Challenge
Key Challenges:
Increased at-risk behaviour among children living in brothels due to early exposure to adult sexual activity and others – the higher likelihood of them turning to prostitution as well when they grow up; 26% of boys and 4.4% of girls reported using addictive substances4 
Huge learning gap between present ability and the required level among these children – the risk of school drop-out and added vulnerability to second-generation prostitution
Child neglect and violence – more than half of mothers were found to inflict violent physical/emotional punishment on their children5; many were also unable to meet the basic needs of their children
Sex trafficking and other sexual violence – child survivors of these do not get proper aftercare for recovery, rehabilitation and reintegration in aftercare homes due to lack of resources and political will; many return to the same vulnerabilities that caused them to be trafficked in the first place and continue to face stigma and violence in their families and communities
World Vision aims to:
Operate drop-in centres in red-light areas – safe spaces where children can receive remedial education, psychosocial support, life skills and protection skills, meals, learning supplies, etc. 
Enable out-of-school youths (above 14 years old) to be skilled for formal employment – support vocational training eg. computer course, driving, beautician, etc.
Ensure child survivors of sex trafficking and other sexual violence receive quality aftercare and reintegrated – support existing aftercare home to set-up child-friendly corner and provide counselling, activity-based psychosocial support, catch-up education, life skills and protection skills, vocational training, pre-integration counselling for survivors and families, etc.
Empower at-risk families to protect and care for their children – positive parenting training for mothers in red-light areas, alternative employment opportunities, Trauma-Informed Care training, emergency ration/ medical assistance, etc.
Project duration: 2 years 7 months (Mar 2021 – Sep 2023)
Target number of beneficiaries: 
Direct (830 total): 80 girls and 40 boys living in brothels, 200 of their parents/caregivers (including mothers involved in prostitution); 150 girl child survivors of violence and exploitation, 300 of their parents/caregivers; 60 drop-in centre teachers, community volunteers and CBO members
Indirect (2,640 total): 440 siblings of the above children and other children in the red-light area; 2,200 community members
To support our Children in the Cities projects, click here. 
---
Impacted Lives
A thirst for education finally quenched
When evening draws near and prostitution business picks up in this red-light area in Kolkata, India, one can at times spot children whiling away their time on the streets until they can go back to their homes. Most mothers would leave their kids with an older sex worker, who would look after them in exchange for money. Things have changed since November 2017 in a small part of this big community. 
"Our objective in red-light areas is pretty clear. We would like to stop second generation trafficking," says Joseph Wesley, Head of the Anti-Child trafficking Project in World Vision India. "This means safeguarding children of women involved in commercial sex work from being drawn in to sexual exploitation. Day in and day out, children see their mothers soliciting customers on the street and then later entertaining them in their only living room. Children have seen enough of what adults do and there is a risk that these children might grow up accepting it as a way of life." 
To tackle this, World Vision opened a total of three Child Friendly Learning and Recreation Centres (CFLRCs) in the community itself for children whose mothers are commercial sex workers. The evening centre has grown from 25 children to 73 children in just a few months. Soon, another centre was opened in the morning for young children (aged 2 to 5 years) who have not started school as yet.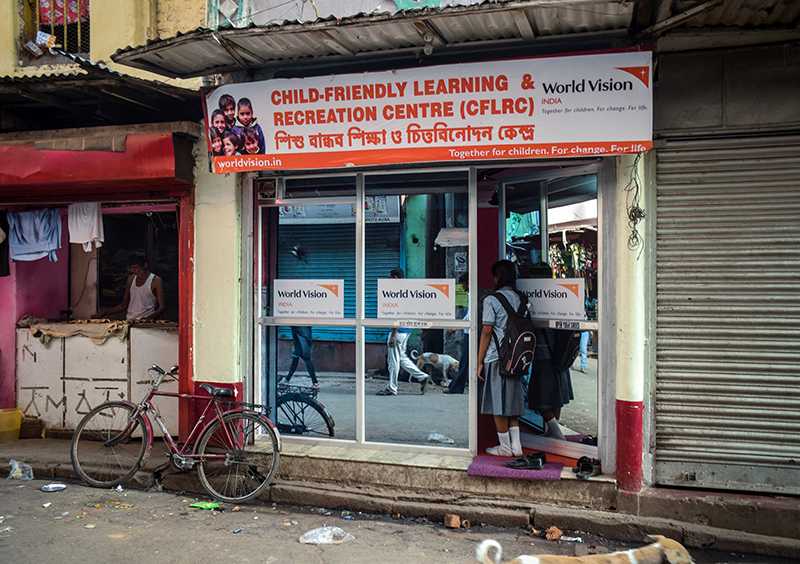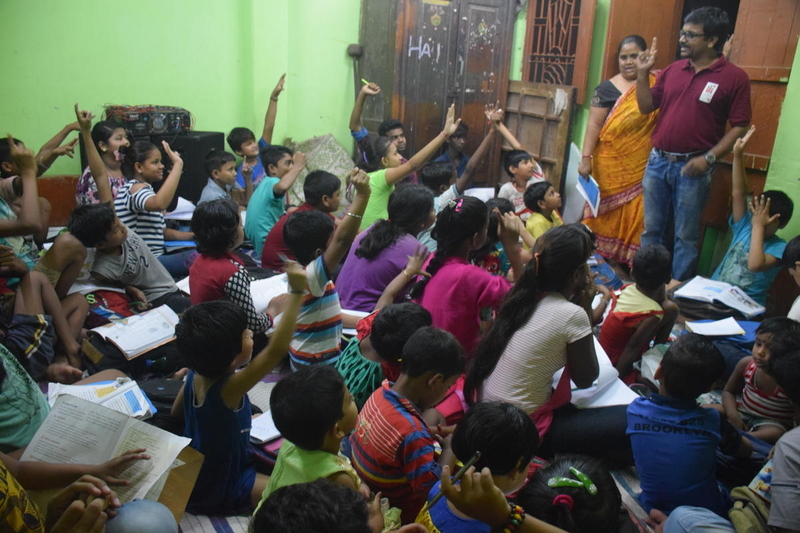 World Vision's Child Friendly Learning and Recreation Centre where children are provided with remedial education, homework coaching, life skills education, and even meals
Centre attendee Riya, 14 years old, moved to this area after staying away from her mother for several years. At a very young age, she had to play multiple adult roles that kept her away from school and a normal childhood. From having to care for an abusive, ailing and alcoholic father (only to be abandoned by him later on), to managing her aunt's household of seven members, and even working at her father's shop, Riya did it all. 
"A few months ago, I thought it was my fate to accept my mother's profession and that I too would be forced to get into the same line. But today things are different. I feel like I can do anything now because I'm finally going to school," says Riya.
Her mother Latika, 35 years old, was from a a poor family of agricultural labourers in a remote district in West Bengal. She never attended school and was married twice, first at the age of 13. Both her marriages were unhappy; she was often abused. To escape her husband's brutality, Latika came to Kolkata and followed in her older sister's footsteps to work as a sex worker to support her two young children. Riya was initially left in the care of her husband, and then another sister. However, she took back Riya and brought her to Kolkata when her sister wanted to force the young girl into child marriage.
In the red-light area, Latika was struggling to enroll Riya in school. Without a birth certificate to prove that Riya was indeed her daughter, the girl was also at risk of being evicted.
When another mother (whose son studied in the centre) told Latika about the learning centres run by World Vision in their area, Riya was immediately enrolled in the programme. Initially very quiet, Riya soon blended in with the other children at the centre.
Riya's desire to go to school was noticed by her teacher, who informed the World Vision staff about her case. Together, they helped Riya secure admission in a Government school (which is free of cost). The teacher also convinced Latika's landlord that Riya was in school, and that they were going to get her identity card in a few weeks. Riya was also provided with necessary stationery from World Vision. She has now started school and is studying in the sixth grade.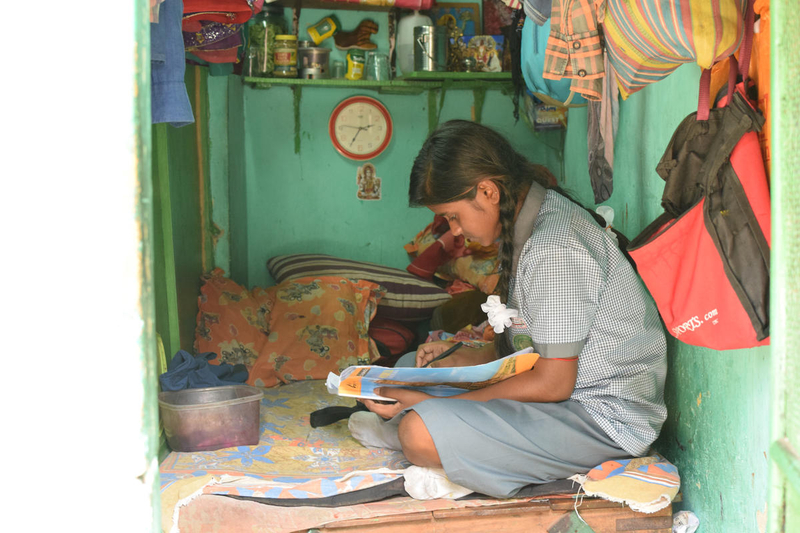 Riya doing further revision on her lessons
To ensure that Riya does not fall back in school, she attends classes at the CFLRC every day.
"I really like the centre a lot. When all of us study together it feels nice. The teacher is also very good. She makes us laugh and explains things to us. She also helps me out with all my difficulties. I go at 5pm and come back at 8pm. I also like it when people come and visit us and when they talk to us in English. We get to learn so much from them," says Riya enthusiastically.  
Many children dread examinations, but Riya takes all this in like a sponge. English is her favourite subject in school. Even though she can't speak English yet, she can understand what her teacher says and is very eager to learn.
"At the age of seven when I should've gone to school, I missed out. But after taking these exams, I have proved to myself and others that even though I was kept away from books when I was young, I will still succeed because I now have the opportunity," she says sincerely.   
When we asked her if she had any fears living in the community, she shed light on safety in the area.
"Men out here are very bad. They stare and pass comments. I scold them at times. Most boys now think twice before saying anything to me. I went for a karate class and memorised a few moves. That gives me the confidence to fight back. I would like to become a police officer someday," says Riya, determined.
Her mother is also happy now that her daughter can stay with her and that she is going to school. She is hopeful Riya will not end up like her.
"I always wanted her to study and I know how much she loves to study," says Latika tearfully. 
*Beneficiary is from another similar World Vision project in Kolkata city supported since 2017.
To support our Children in the Cities projects, click here. 
 
---
1Depression and Its Relation with HIV Risk and Social Well-Being among the Broth- el-Based Female Sex Workers in Kolkata, India, Jana S, et al., HSOA Journal of Community Medicine and Public Health Care, 2017
2FLAT assessment conducted among CFLRC children by World Vision India, 2019
3Baseline report of World Vision India's West Bengal Combat Child Trafficking Program, 2018
4SANLAP survey, 2016 https://www.ecpat.org/wp-content/uploads/2016/04/YPP_Research_indial.pdf
5Baseline survey conducted by WV India in 2018 in association with Columbia Group for Children in Adversity, United States.