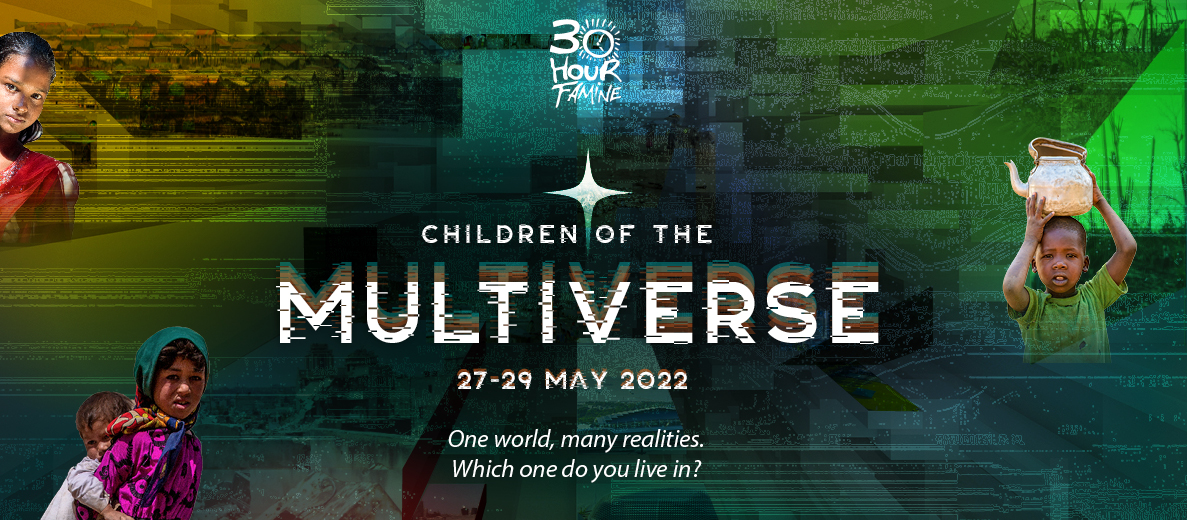 Welcome to the Multiverse. This May, step through the portal and into the different realities of children struggling amidst poverty and injustice around the world, and live a day in their shoes. 
Various crises affect the lives of children everywhere. From the difficulties of finding food and clean water in a slum, to conflicts that creates fear, and the ever-increasing threat of climate change, the #ChildrenfotheMultiverse are at greater risk than ever before.
At this year's 30 Hour Famine, we're back again with new virtual challenges and will be coming together as one for a mystery event to create a lasting expression of how small contributions can make a big difference! From 27-29 May, join us in learning and experience life through the eyes of children living in urban poor communities, conflict zones, and disaster settings, and discover how your daily choices to live responsibly in Singapore can change the world for the better. 
Find out more at https://www.worldvision.org.sg/en/cot_multiverse!
World Vision is calling all youth who desire to be change agents in making poverty history!
We work with schools, organisations and youth to raise global leaders who are aware of issues related to poverty and humanitarianism worldwide, and want to be empowered to make a difference in the world. If you believe that your generation can bring about change, we invite you to join us in our fight against poverty and injustice. For a start, you can read some of our youth blog posts here!
For more information on any of our activities or events, please email youth@worldvision.org.sg.