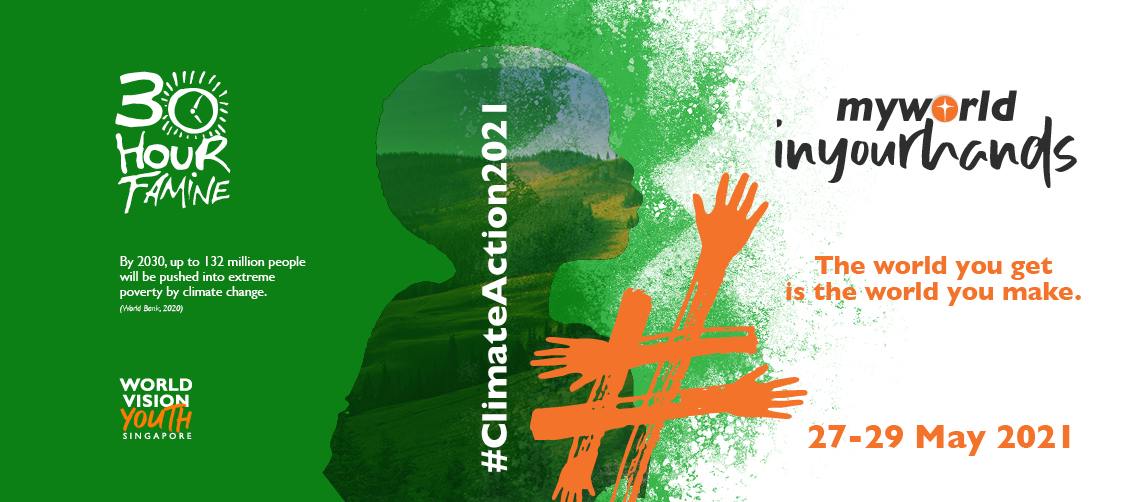 Stay up to date with the latest details on the challenge programme at www.worldvision.org.sg/30hfc or our Instagram @worldvisionyouthsg!
Do you know you have the power #InYourHands to transform the world? Each choice you make can influence the lives of children living in another part of the world. 
Climate-related disasters like floods, droughts and typhoons have disproportionately affected the food and water security, education and shelter of children in vulnerable communities. They have no choice but to pay the price of climate change with their dreams and future. 
At this year's 30 Hour Famine, we're back again with an upgraded virtual challenge to continue our fight against climate change. From 27-29 May, gather in groups of 1, 2 or 3 and join us on Instagram to experience life through the eyes of children gravely affected by the impacts of climate change, and discover how your daily choices to live responsibly in Singapore can change the world for the better. Let's join hands and make a positive impact on the world today! 
Sign up over at: https://www.worldvision.org.sg/en/30-hour-famine-2021! 
Questions? Please drop us a call at (+65) 6922 0136, or email youth@worldvision.org.sg. 
Thursday, 27 May 2021 - 9:00am

to

Saturday, 29 May 2021 - 5:00pm